Tuscan Landscape for Nevada
Imagine yourself sitting out under the big Tuscan sun, among the vines and trees, enjoying a glass or bottle of wine and escaping to the Italian country side every night in your backyard. Add these plants to amplify your villa's Tuscan landscape.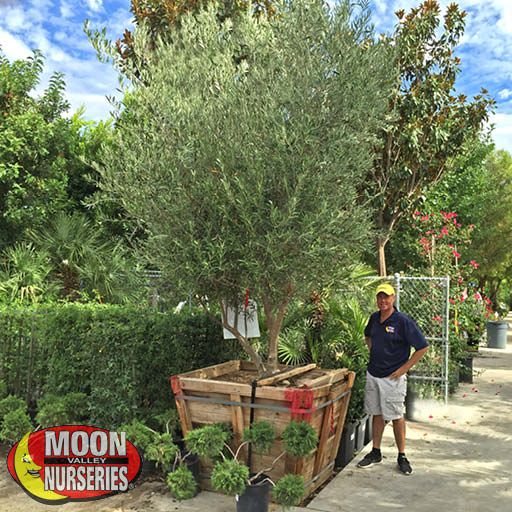 Homeowners are sure to appreciate its easy to care for attributes. Fruitless Olive trees crave full sun and are able to tolerate poor, stony, shallow soils so you can plant this tree on a variety of landscape styles. With very little water requirements once established, this resilient medium-sized tree can grow with a widespread, making this a great tree for use as a canopy tree for shade or as a silhouette against structures, bringing shade to sun-facing room.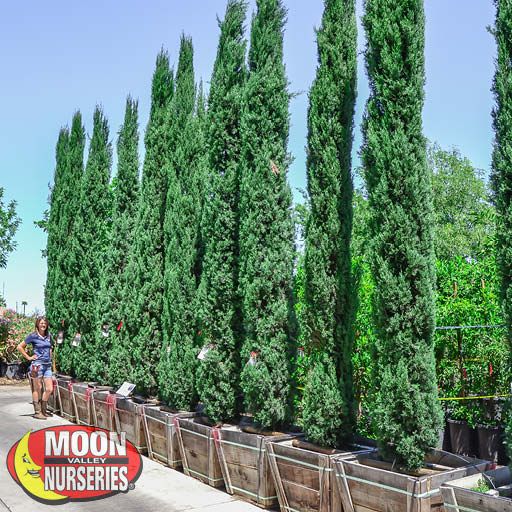 The Italian Cypress is more than just an attractive, space-saving tree. Does your property need more privacy? A fast grower and a great choice for mass planting, many homeowners living in tract housing may want to plant tall and wide Italian Cypress trees for use as a privacy hedge. Does too much wind bother you? Homeowners living in high wind areas will appreciate the windbreak features of these magnificent trees, too.

Families are sure to love this Southern Live Oak tree. Create lasting memories around this long lifespan oak. It's dense, gray/green foliage and large spreading crown provides an ideal shady spot for a picnic on your lawn. Carve your initials into the impressive trunk or host a backyard get together and hang a piñata on the durable tree limbs. If you are looking for a climbing tree, a mature specimen is just begging to be climbed.

The Black Mission Fig is an excellent addition to any backyard orchard! Native to southwest Asia and the Mediterranean region, the Ficus carica 'Mission' variety was first introduced to the United States when Franciscan missionaries planted it in San Diego. Today, the Mission Fig is regarded by many to be the highest quality fig variety! Besides the nutritious and delicious fig fruit, this Ficus carica variety has good looks to match! We also like to plant them as an attractive ornamental tree, where their interesting green foliage offers dense shade. Of course, if it is the fig fruit you are after, you can expect a bounty of the sweet, purplish-black fruit in the summer!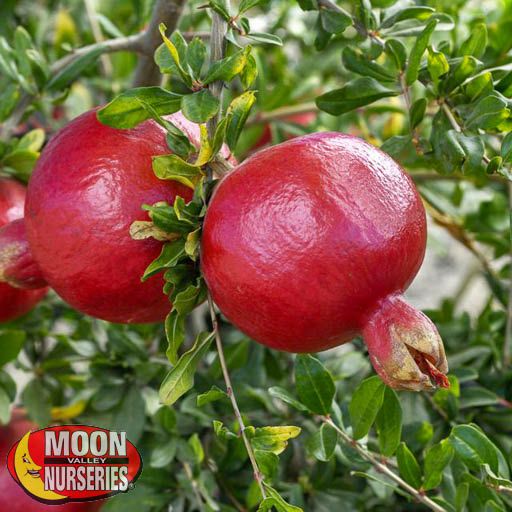 The Pomegranate tree is also one of the easiest fruit trees to grow and thrives in our local climate. Since they are well-suited for arid environments, once established, they have low to moderate water requirements and are drought tolerant. Plant them in a spot with full sun exposure, and they can flourish. Once they have been established in your landscape, we like to apply Moon Dust fertilizer so it can enhance fruit quality and the overall health of the plant.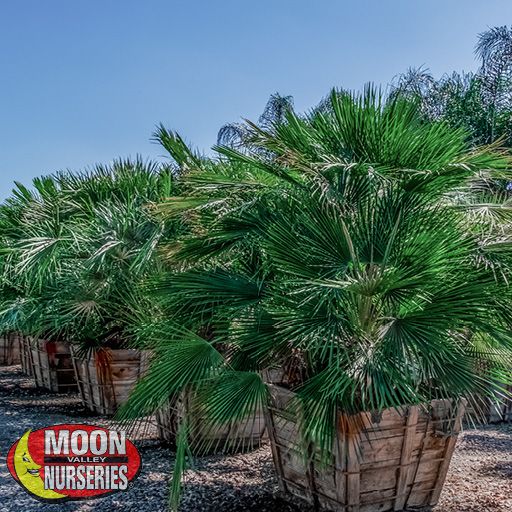 One of the best aspects of this palm is its durability. It requires minimal water once planted and over time it can become drought tolerant once established. The Mediterranean Fan Palm can tolerate both cold and heat and it can survive periods of freezing weather with little or no damage. And finally, the palm requires minimal maintenance and cleanup. No need to be spending those weekend days pruning this palm! This makes these palms a perfect addition to any landscape type, near pools, walkways, patios or as a focal point in your yard, the Mediterranean Fan Palm is sure to impress.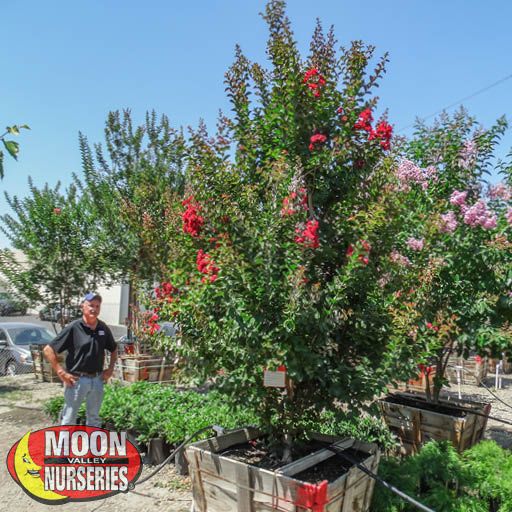 Drought tolerant, Crape Myrtle craves the heat, and may bloom with large clusters of delicate flowers. When the hot weather arrives, expect late spring and summer colors to decorate your landscape with shades of red, white, purple and pink. Crape Myrtle Lagerstroemia is just as colorful in the fall as it is in the summer. Fall colors such as golden, orange and red are sure to complement any yard and landscape. This small-to-medium-sized tree looks good even when bare, revealing a handsome outline and smooth, spotted gray to light brown bark that may shed to reveal a pinkish, inner bark. Use landscape lighting to highlight the beautiful multi-trunk structure.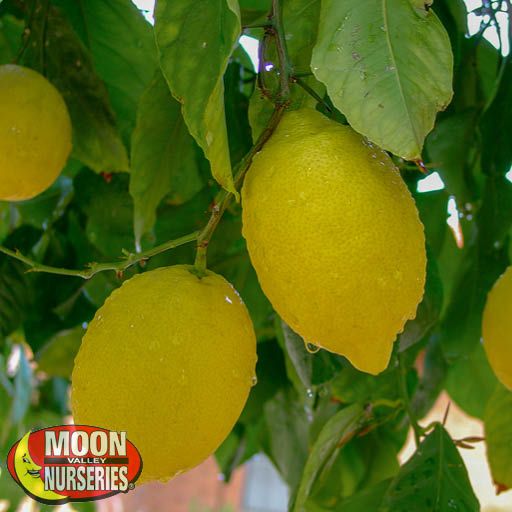 Citrus trees have many uses around the home. Lemon trees, in particular, have many culinary and household uses that can make everyday life that much easier. Lemons can be used for juicing, cooking, flavoring meats and seafood as well as used to make family friendly natural pesticides and herbicides. Like many citrus trees, Lisbon Lemon these will bloom in late winter to early spring depending on temperatures, The sweet smell of citrus blossoms will fill the air making your outdoor space that much more enjoyable. What sets these apart from other citrus is they will continue to bare year round giving you plenty of fruit to enjoy fresh from your own yard. Lisbon Lemons are ready to eat once the fruit has turned a bright yellow color.

Canary Island Date Palms have a wide beautifully brown colored trunk accented by their pineapple cut crowns and their deep green, exotic looking fronds, that make this an extremely showy palm and focal point. These are gorgeous when lit up at night and work well by themselves or planted to line walkways, pools, sitting areas, and driveways. Their elegant look is prized not only by business, malls, developers but has quickly become a homeowner favorite.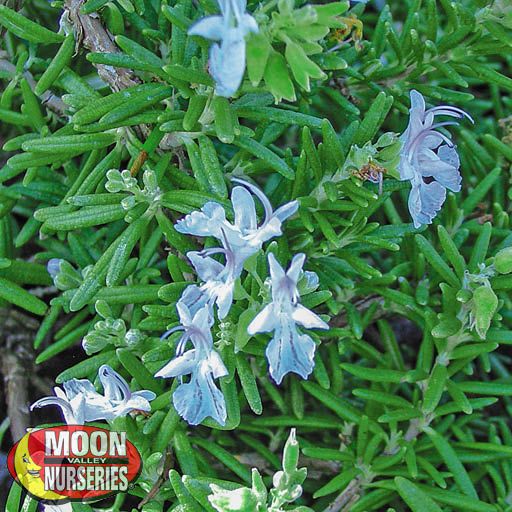 Rosemary is a very hardy herbaceous shrub with many ornamental uses in all styles of landscaping. Easy to grow in a variety of soils, rosemary has been a mainstay of western gardens for decades. Trailing variety can reach thigh high or be trimmed under 1 ft tall and allowed to spread as a ground cover. In raised planters and pots they will trail straight down the sides. Very suitable for sun or part shade Rosemary is very drought tolerant if watered deeply when young.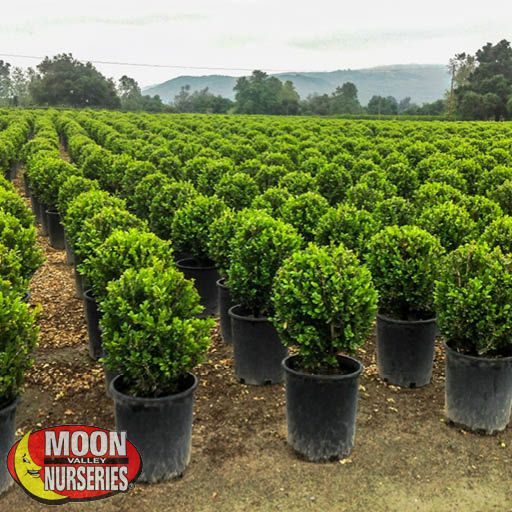 This hardy evergreen is an excellent choice for low to medium formal hedges along walls or walkways. The Japanese Boxwood has attractive, bright green foliage that looks beautiful against buildings when used as a foundation plant. Buxus japonica is a great choice for pruning into topiary or geometric shapes when desired. Plant in well drained soil with planting mix blended into native soil. Water deeply and regularly during warm months and allow the soil to dry out between watering in cooler months.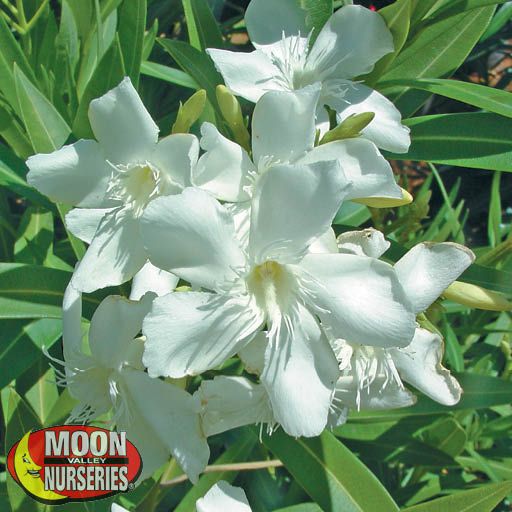 An Oleander will thrive in full sun with low to moderate water use once established. It's a versatile plant that can grow just fine in partial shade, too. Larger Oleanders can be easily trained into single or multi-trunked trees with dark green, leathery, and semi-glossy narrow leaves providingyear-roundinterest. Once in bloom, expect pollinators and hummingbirds to flock into your garden to enjoy the floriferous display of heavily scented single and double petal flowers.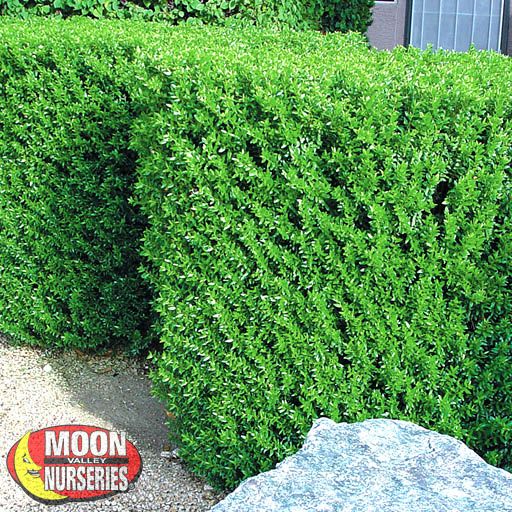 Dwarf Myrtle is an excellent hardy shrub mostly used for small to medium hedges. Dwarf Myrtle works in many applications and is very cold and heat hardy. Dwarf Myrtle can be planted in tight rows to create a thick privacy screen for porches, patios or for property lines. Dwarf Myrtles are evergreen plants that will bloom small white flowers in early to mid spring. Dwarf Myrtle can also be used as a topiary style plant and in pots as well.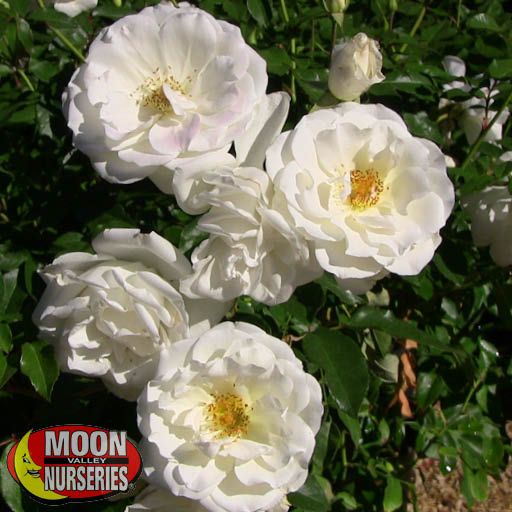 The Iceberg Rose is a shrub that can be planted almost anywhere, as long as it gets an adequate amount of sun. Depending on how you want to use them in your landscape, they can be trimmed down into a low bush, or pruned into a small hedge. The white flowers make it a great option when you are looking to add some classic simple accents to your yard. There is also a climbing variety of the Iceberg Rose that looks stunning wrapped around trellis' in your yard.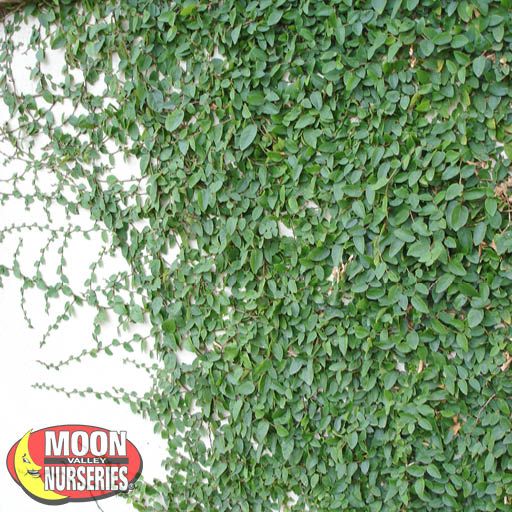 As its name suggests, the Creeping Fig can literally cover up everything. It's an excellent choice for walls, fence covers, and trellises due to its rapid and aggressive growth rate. Cold and heat tolerant, the Creeping Fig is a very durable plant that can attach itself to a wide range of surfaces.
What is next?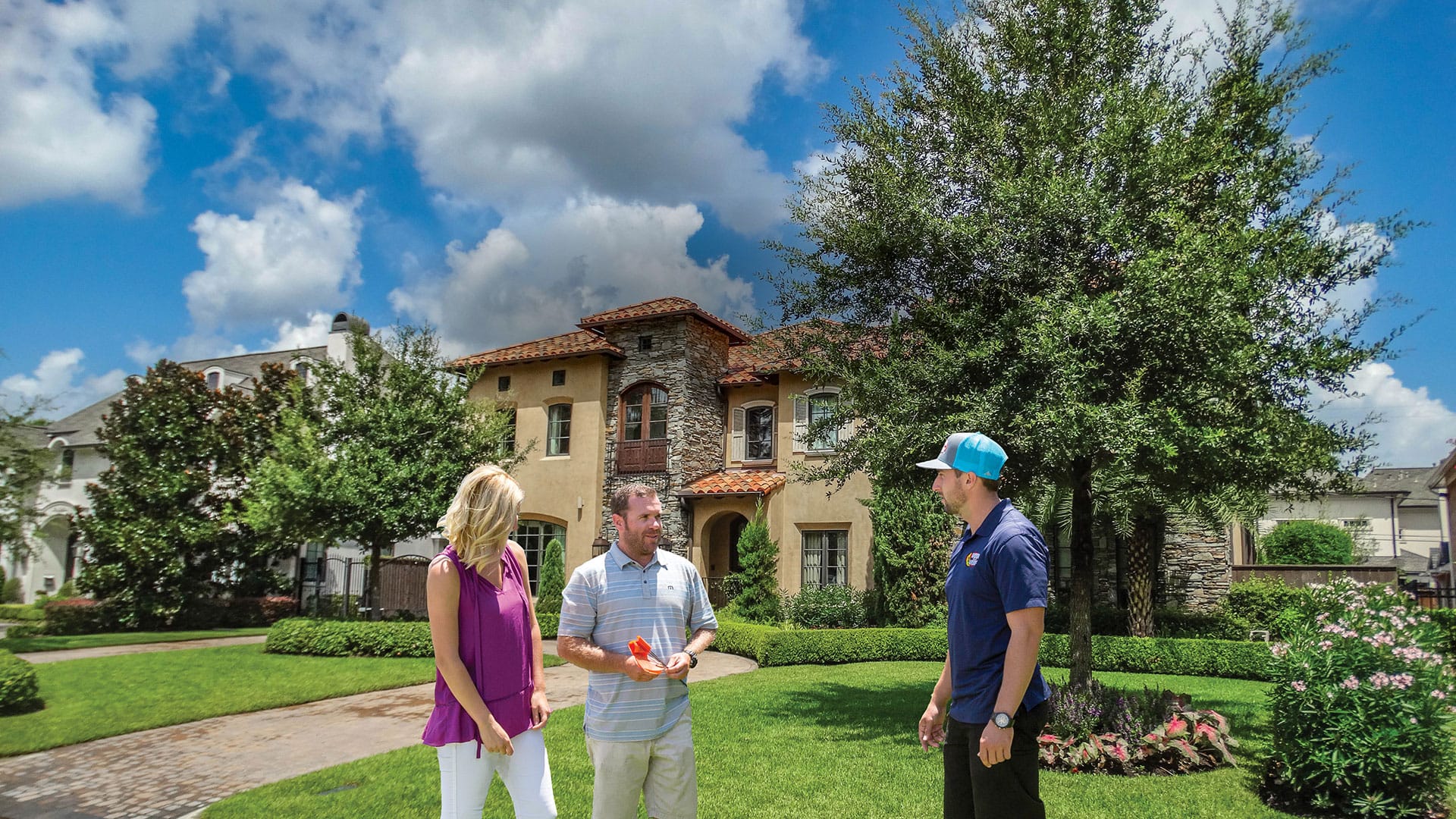 From consultations and design concept to completion, our talented team can help create the backyard of your dreams. We design beautiful and peaceful tropical oasis's that can be enjoyed year round. Let us help bring your vision to life