Tropical Landscape for Texas
Vacation doesn't have to stop the minute you come home. Keep living that island vibe and escape the stresses of the world when you come home to your own private paradise.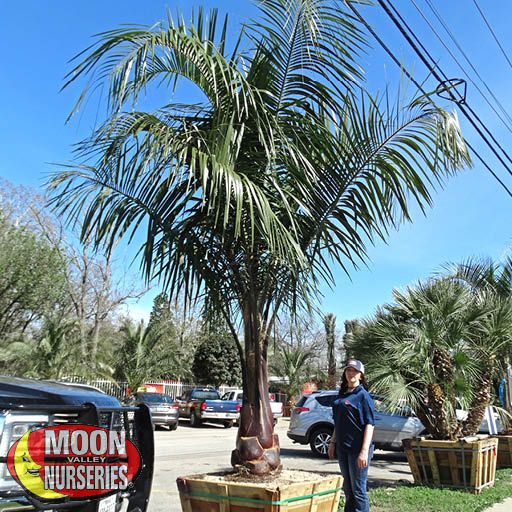 Moon Valley Nurseries' amazing new introduction into the realm of palm trees is just what nearly all palm lovers desire. Developed over the past decade at our labs and farms, the King Piru Palm is now hitting the market, but only at Moon Valley Nurseries! Ideally sized for most normal back yards the King Piru Palm is set to become the new standard for those seeking to create a tropical environment within their landscape. Though not actually new variety, its parentage features the most desirable aspects of Moon Valley Nurseries proprietary "Piru" Strain of extra robust Queen palms blended with the grace, beauty and exceptional durability of selectively bred Pindo palms, the King Piru takes it to the next level for landscape palms.

The Ribbon Palm, botanical name Livistona decipiens, is a moderate growing, medium to large palm tree with striking good looks and a cold hardy nature. In fact, it's one of the toughest palms around! From northeastern Australia, Ribbon Palms are noted for their stunning, fan-shaped fronds that split into long, delicate ribbons. These elegantly drooping leaf tips help to give it its uniquely attractive look for a variety of landscape applications.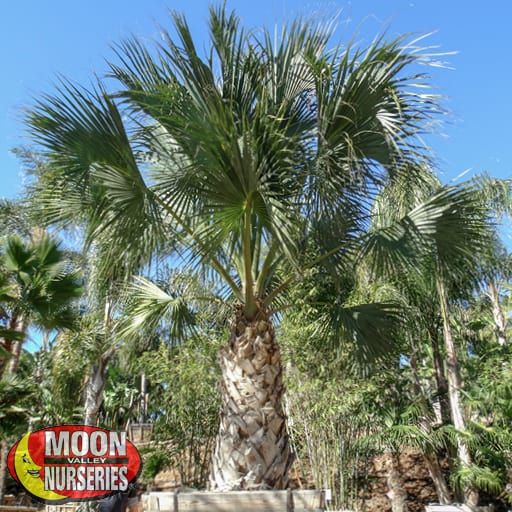 The Sabal Palm, also known as Sabal palmetto, is a medium-sized, slow growing palm that is native to the southeastern US and West Bahamas. They are tough, versatile and ready to bring a little slice of paradise into your yard! When first planted, the Sabal Palm looks like tree fronds growing straight up from the ground, and as it matures they can grow with unique curves and character. We love to plant them as street trees, for the patio or terrace, and around swimming pools and spas where their trunk and fronds can cast a distinctive shadow of filtered shade. Their large, green-colored fronds and uniquely shaped trunk will also look amazing when lit up with nighttime landscape lighting! Plant a few and they can also be used as one of the most tropical hedges you can find!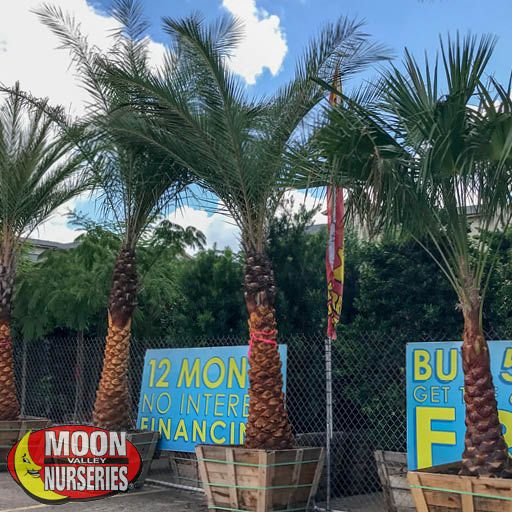 The Sylvester Date Palm has many similar characteristics to the True Date Palm, such as a robust, solitary trunk with that striking diamond pattern that adds a touch of elegance anywhere. Native to India, Phoenix sylvestris (botanical name) is a beautiful accent palm, which is part of the reason why you will often find them planted in luxury home properties, upscale resorts, and planted in rows along avenues. These are fast-growing palms, with an attractive canopy featuring fronds with gray-green hues that help this tree blend well with many landscape themes. We like to plant them poolside, where mirror-smooth water can reflect their graceful shape, and with landscape lighting, you can create nighttime drama!

Queen Palms are a staple of the Southern California and Southwest landscape. Our majestic Piru Queen Palms bring a tropical look and feel to just about any landscape, whether lining neighborhood streets or grown in your very own backyard tropical paradise. Grown purely from superior Argentine seedlings with better genetic traits, these Moon Valley Nurseries Piru Queen Palms are at the top of the class in the queen palms family due to their superior durability and grand appearance. Piru Queen Palms feature thicker and harder trunks as well as greener palm fronds and fuller crowns than other Queen Palms do.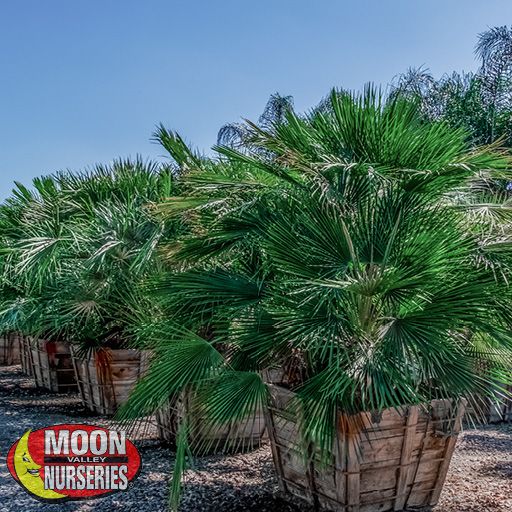 One of the best aspects of this palm is its durability. It requires minimal water once planted and over time it can become drought tolerant once established. The Mediterranean Fan Palm can tolerate both cold and heat and it can survive periods of freezing weather with little or no damage. And finally, the palm requires minimal maintenance and cleanup. No need to be spending those weekend days pruning this palm! This makes these palms a perfect addition to any landscape type, near pools, walkways, patios or as a focal point in your yard, the Mediterranean Fan Palm is sure to impress.

The Sago Palm is an extremely interesting type of plant, while most think by its common name that it is a palm tree the Sago is actually a Cycad, botanical name Cycas revoluta and is actually more closely related to a pine tree than it is a Palm tree. The Sago Palm has been around and relatively unchanged for over 200 million years, making it a living fossil! The Sago Palms at Moon Valley Nurseries are all custom grown by us and propagated from only our best specimens to ensure that all of our palms are of the highest quality.

Pygmy Date Palms can be used in many landscape applications. Depending on your need, we carry both single and multi-trunk varieties. Its versatility and dwarf growth pattern allow it to be planted in tight spaces around pools, patios, courtyards, and pots. The Pygmy Date Palm can also be grown in shade and its roots and non-invasive. This allows it to be a fantastic option for planting under larger palms, in between palms, or in a cluster.
Hibiscus are medium to large growing shrubs with very lush, dark foliage and beautiful flowers that come in a wide variety of colors. These beautiful flowering plants prefer to be planted in well-prepared garden soil that drains well and needs even moisture for their roots. Be careful though as heavy soil tends to suffocate them.

Trachelospermum jasminoides, Star Jasmine is a cold hardy, twining vine that is best loved for the strong, sweet fragrance of it's white flowers. Star Jasmine will twine itself up a trellis or fence, quickly covering a wall with thick dark green leaves. It is best used in tropical or transition areas. This fast growing vine also grows well in containers, draping down the side or wrapping itself up a post or trellis. Plant in rich garden soil and water deeply and consistently throughout the summer.
The ever-popular Everblooming Gardenia is a wonderful addition to a landscape or yard. It has many great features to offer no matter where you choose to plant it. You can enjoy the gorgeous silk white flowers as an accent piece in your yard and can prune and enjoy them inside your home for a bit longer. Gardenias are most known for the beautiful strong scent they carry. To benefit the most from the aromatic fragrance, we recommend planting near patios and walkways. It can also be planted in patio containers or large pots for front yard curb appeal.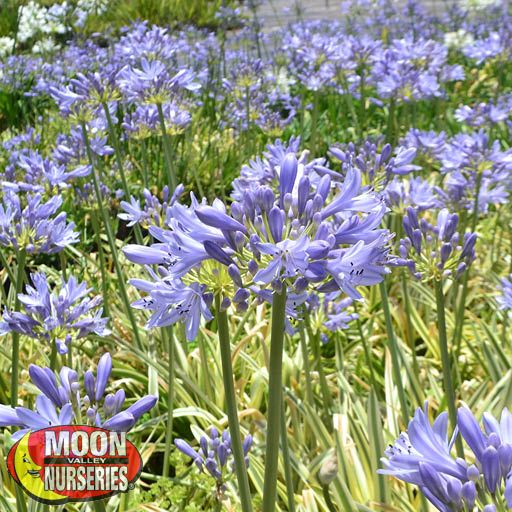 Evergreen perennial with grassy foliage and clusters of beautiful blue flowers on long stems. Bright green, knee-high foliage has a delicate appearance with dramatic clusters of trumpet-shaped blooms on top of long stems in late spring and fall. Best when grown in partial sun, protected from hot scorching afternoon sun. Prepare soil with a generous amount of planting mix and provide good drainage. Agapanthus like slightly acidic soil so deep water and regular applications of Moon Dust will help them look and bloom their best. Water deeply and keep the soil slightly moist in warm weather. Agapanthus are good accent plants in Tropical and Mediterranean landscapes and very effective in mass plantings.
The Little John Bottlebrush, or just 'Little John', is one of the most identifiable shrubs in the areas where it grows, such as the general southwest region. The small to medium shrub produces dark red, brushy flowers during the spring and summer months. Versatile, hardy and colorful, the Little John is a popular accent plant used in many types of landscapes. Little John's can make a nice informal hedge, accent to a desert yard, or planted in mass over large areas.
What is next?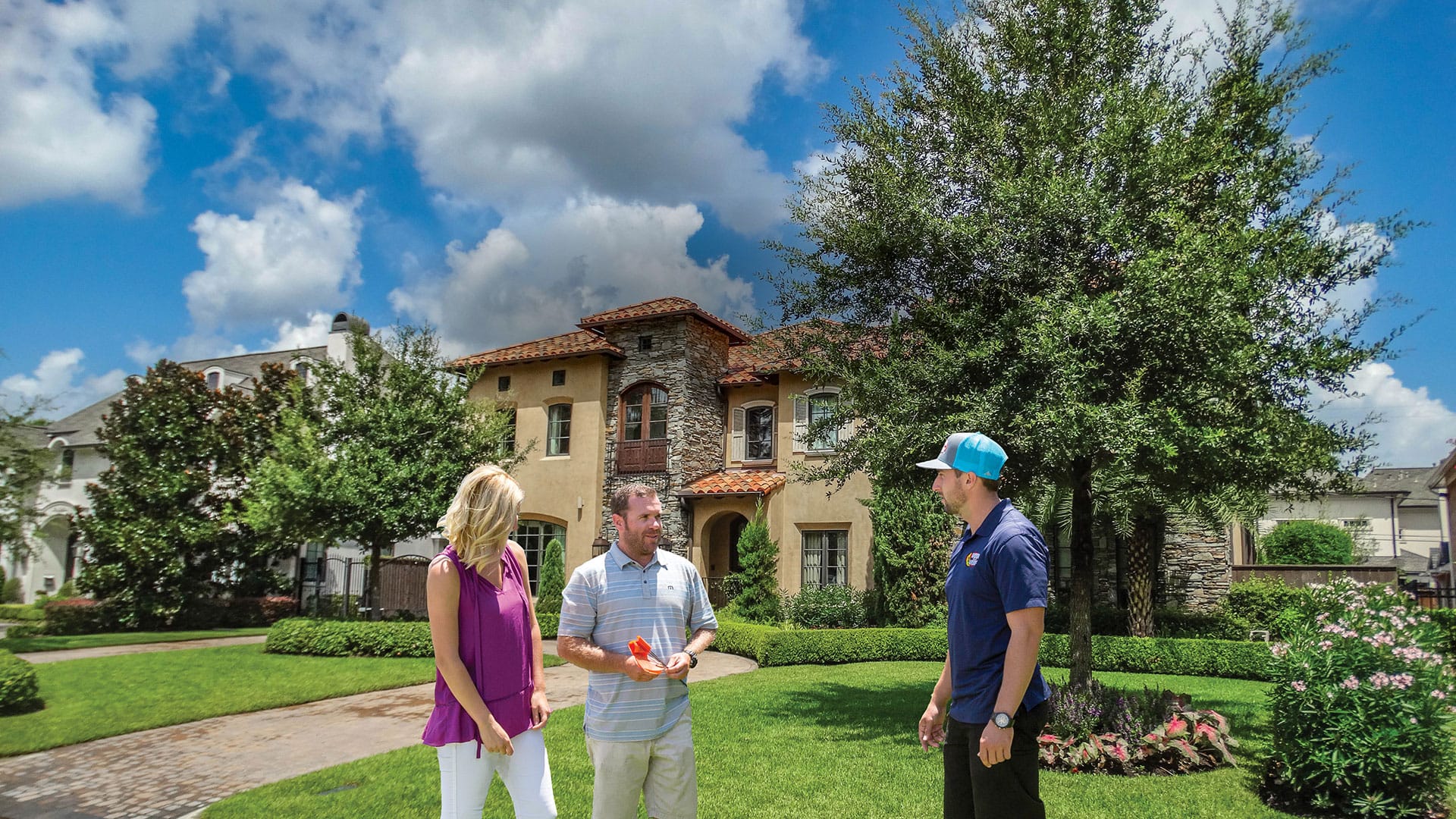 From consultations and design concepts to completion, our talented team can help create the backyard of your dreams. We design a beautiful and peaceful tropical oasis that can be enjoyed year-round. Let us help bring your vision to life