Tropical Landscape for California
Rewind and go back to your favorite island vacation. Was it Hawaii, the Bahamas, or maybe Bali? You can bring paradise back to your yard and enjoy a tropical oasis every day. Add these trees and plants to your yard to create your tropical escape.

The Kentia Palm, Howea forsteriana is an elegant species of palm tree that is prized for its eye-catching trunk and exquisitely beautiful palm fronds that grow a deep green color and arch from the crown outward to create a tropical canopy wherever it is planted. The deep brown trunk grows tall and narrow making this palm perfectly suited for tighter areas and to be planted in clusters. This will help add shade to your landscape as well as blocking out unwanted views.

When it comes to color, the King Palm is one of the best palm varieties for Southern California. The trunk is smooth with a lime-green crown shaft, which is a collection of leaf bases of the plant all wrapped around one another. As the King Palm grows the oldest fronds pull away from the trunk exposing the brown trunk with growth rings. At the top, dark-green fronds rarely drop below the crown shaft adding a rich color that makes the lime-green crown shaft pop. And if you needed more color, the King Palm also produces seasonal eye-catching flowers that bloom in purple with a white undertone.

Plumeria is native from Mexico to Panama and is well-known for their lovely, spiral-shaped blooms that range in color from white through yellow, gold, and orange to shades of pink and red! They are also known by their botanical name, Plumeria rubra, and their flowers are among the most fragrant of any tropical flowering plant. The bloom begins in the spring and can last up to six months! Besides the plumeria flower, this deciduous tree features green leaves that turn red in the fall, so we like to use them as a focal point in the front yard, where their good-looks are sure to add curbside appeal! We also like to use them in a tree pit, or near a deck or patio, where anyone can relax and enjoy the fragrant blooms that fill the air!

Queen Palms are a staple of the Southern California and Southwest landscape. Our majestic Piru Queen Palms bring a tropical look and feel to just about any landscape, whether lining neighborhood streets or grown in your very own backyard tropical paradise. Grown purely from superior Argentine seedlings with better genetic traits, these Moon Valley Nurseries Piru Queen Palms are at the top of the class in the queen palms family due to their superior durability and grand appearance. Piru Queen Palms feature thicker and harder trunks as well as greener palm fronds and fuller crowns than other Queen Palms do.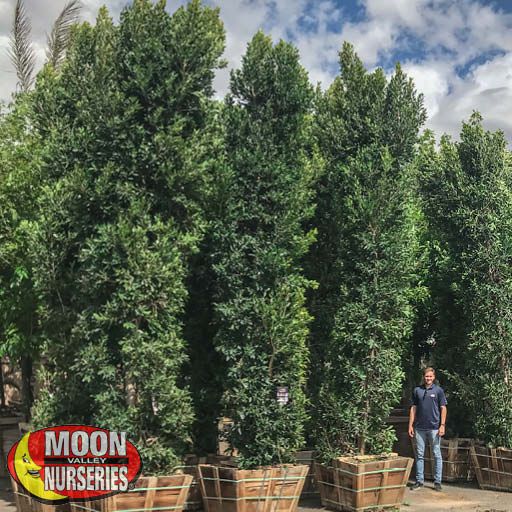 As great as this Indian Laurel Ficus tree is for shade, it can also add some much-needed privacy. We love to plant them around property lines, where they can block out unwanted views in style and help homeowners achieve their own private backyard paradise! After all, Ficus nitida fits well with any landscape theme, so they look fantastic planted not only with palm trees but other trees and plants as well. It has a medium to fast growth rate, so you won't be waiting too long for it to add shade and privacy into your landscape. Plus, Moon Valley Nurseries grows it's own special select strain, cloned from our perfect mother trees. We have trees in every size, so you can have instant privacy now with our specimen trees and no waiting is needed! Best of all, once established, this drought-tolerant tree keeps its lush green appearance even in the most water-wise landscapes! Are you looking for a tree to act as a natural sound barrier? People that live near busy streets will want to plant Ficus 'Indian Laurel' trees, as it can help reduce noise while adding some valuable curb appeal too!

Canary Island Date Palms have a wide beautifully brown colored trunk accented by their pineapple cut crowns and their deep green, exotic looking fronds, that make this an extremely showy palm and focal point. These are gorgeous when lit up at night and work well by themselves or planted to line walkways, pools, sitting areas, and driveways. Their elegant look is prized not only by business, malls, developers but has quickly become a homeowner favorite.

The Sago Palm is an extremely interesting type of plant, while most think by its common name that it is a palm tree the Sago is actually a Cycad, botanical name Cycas revoluta and is actually more closely related to a pine tree than it is a Palm tree. The Sago Palm has been around and relatively unchanged for over 200 million years, making it a living fossil! The Sago Palms at Moon Valley Nurseries are all custom grown by us and propagated from only our best specimens to ensure that all of our palms are of the highest quality.

Pygmy Date Palms can be used in many landscape applications. Depending on your need, we carry both single and multi-trunk varieties. Its versatility and dwarf growth pattern allow it to be planted in tight spaces around pools, patios, courtyards, and pots. The Pygmy Date Palm can also be grown in shade and its roots and non-invasive. This allows it to be a fantastic option for planting under larger palms, in between palms, or in a cluster.
The Sabal Palm, also known as Sabal palmetto, is a medium-sized, slow growing palm that is native to the southeastern US and West Bahamas. They are tough, versatile and ready to bring a little slice of paradise into your yard! When first planted, the Sabal Palm looks like tree fronds growing straight up from the ground, and as it matures they can grow with unique curves and character. We love to plant them as street trees, for the patio or terrace, and around swimming pools and spas where their trunk and fronds can cast a distinctive shadow of filtered shade. Their large, green-colored fronds and uniquely shaped trunk will also look amazing when lit up with nighttime landscape lighting! Plant a few and they can also be used as one of the most tropical hedges you can find!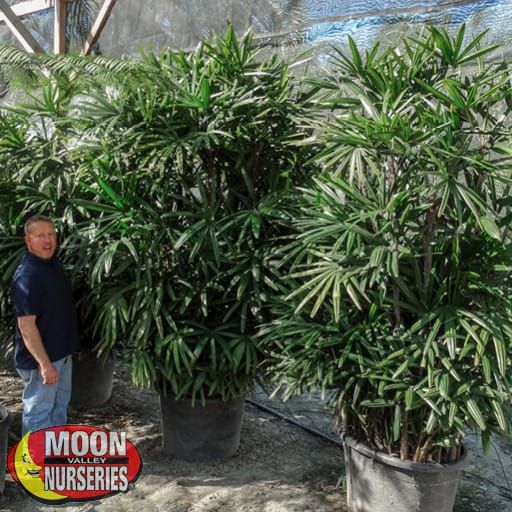 The Rhapis Palm, botanical name Rhapis excelsa, also known as the 'Lady Palm', make fantastic tropical accents whether used as an indoor houseplant/office plant or grown in a tropical garden setting. From China, this small palm is noted for its eye-catching deep green foliage and bamboo-like clumps. It's a slow growing, elegant palm and also one of the finest houseplants and office plants available. Homeowners that choose to use this as an indoor houseplant will appreciate its ability to withstand neglect and poor light, as well as its striking beauty that is sure to enhance any area.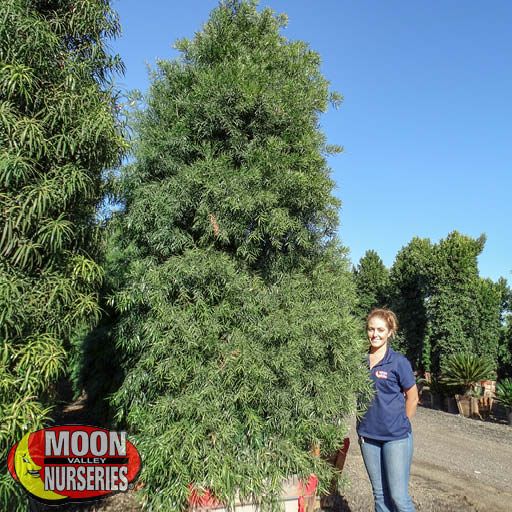 Homeowners can get creative with the shape of this evergreen shrub or tree. Podocarpus gracilior can be trimmed down to fit into tighter forms, or be left alone to reach heights of up to 40-feet. It is a common sight to see Podocarpus gracilior trees or shrubs trimmed and shaped like a ball, cone or column on lawns, patios, streets, or gardens throughout the Southwest. It looks good whichever shape you want it to take and however you want to use it on your landscape.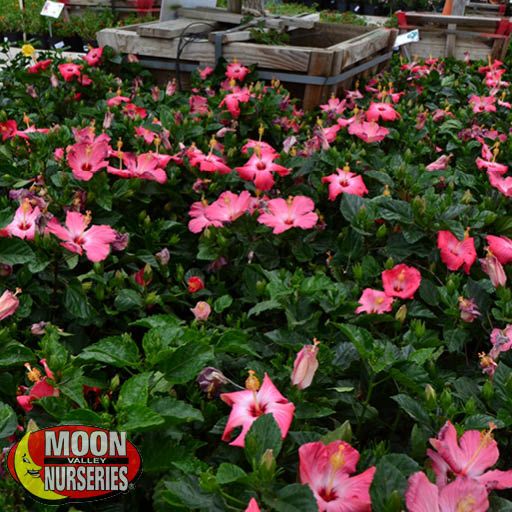 Hibiscus are medium to large growing shrubs with very lush, dark foliage and beautiful flowers that come in a wide variety of colors. These beautiful flowering plants prefer to be planted in well-prepared garden soil that drains well and needs even moisture for their roots. Be careful though as heavy soil tends to suffocate them.

Trachelospermum jasminoides, Star Jasmine is a cold hardy, twining vine that is best loved for the strong, sweet fragrance of it's white flowers. Star Jasmine will twine itself up a trellis or fence, quickly covering a wall with thick dark green leaves. It is best used in tropical or transition areas. This fast growing vine also grows well in containers, draping down the side or wrapping itself up a post or trellis. Plant in rich garden soil and water deeply and consistently throughout the summer.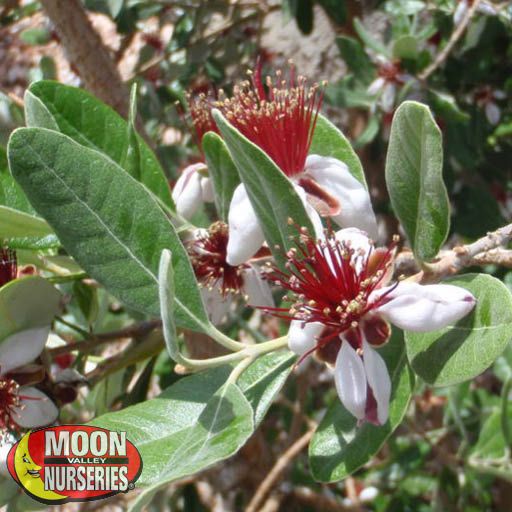 The Pineapple Guava Tree or Fejioa is easy to grow, which is great news for those that love the tasty guava-like fruit that ripens in late fall! A South American native, Feijoa sellowiana (botanical name) features fleshy, white flower petals with showy red accents, and these flowers bloom in early summer, contrasting beautifully with the gray-green foliage. We like to use them in an edible garden because you do not need to have a green thumb to grow them well. Of course, the delicious fruit is the highlight, which has a tangy flavor perfect for scooping out with a spoon or cooking them in pies, puddings, dumplings, and as pastry fillings. However, it is not just the fruit that is edible. The thick petals of the flowers can also be eaten and have a deliciously spicy flavor perfect for salads or used for jams and jellies!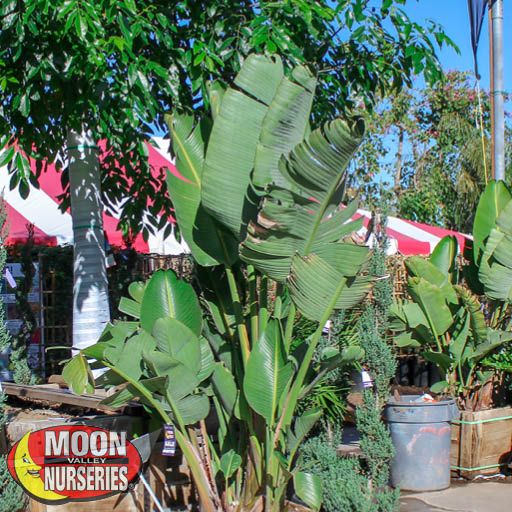 Giant Bird of Paradise is one of the most dramatic tropical plants that thrive in desert climates. Huge leaves can reach 15' across and 48' long on even longer stems. Upright growth pattern makes it a good long-term choice for large areas with afternoon shade. Use Giant Birds in raised planters and pots as a specimen or in combination with other smaller tropicals for lush mixed collections. Plant in shade or morning sun with well-prepared garden soil. Water deeply and regularly during warmer months.

Tropical Bird of Paradise is a surprisingly sturdy tropical shrub in hot climates. A major requirement, however, is good drainage so they can be watered deeply and set strong roots. Once established they are fairly drought tolerant. It's bright orange and blue flowers appear in fall through spring on mature plants. Tropical looking leaves can reach 5' high and spread as wide. Tropical Birds will acclimate to full sun but prefer protection in afternoons during hot summers. Grow in pots and raised planters in garden settings.
What is next?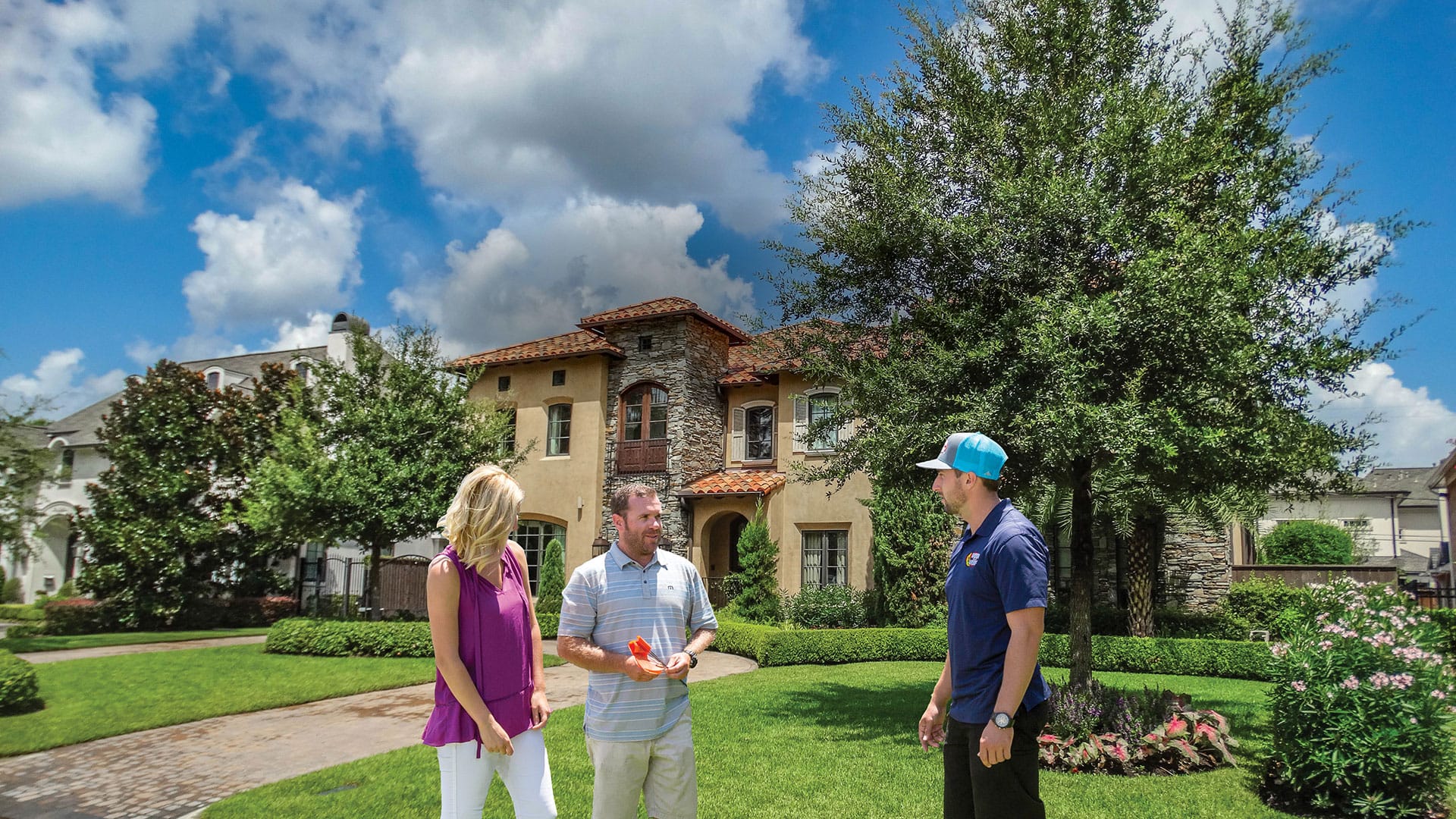 From consultations and design concept to completion, our talented team can help create the backyard of your dreams. We design beautiful and peaceful tropical oasis's that can be enjoyed year round. Let us help bring your vision to life