Moon Valley Nurseries - Phoenix Tree Care
TREE REMOVAL, TRIMMING, FERTILIZING
& MORE!
Staffed with ISA Certified Arborists and Certified Nursery Professionals, the Moon Valley Tree Service team guarantees the highest quality service for your trees and landscape. As the nation's largest box tree grower we are the experts when it comes to the trees in your yard. From fertilization and proper watering to trimming and safe removal, our experts will get the job done right every time!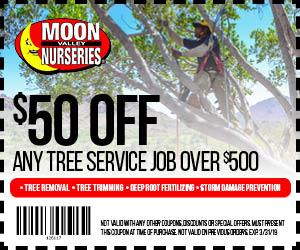 FREE VALLEY WIDE ESTIMATE: (602) 814-0355

-OR- FILL OUT THE FORM BELOW
Schedule your free tree care estimate!