Modern Landscape for Texas
Keep up with the times and enjoy a new modern look in your yard. If you are looking for a great landscape in Texas, these trees and plants are the staples to a modern yard. Create shade, color and more to increase your home's value.

Families are sure to love this Southern Live Oak tree. Create lasting memories around this long lifespan oak. It's dense, gray/green foliage and large spreading crown provides an ideal shady spot for a picnic on your lawn. Carve your initials into the impressive trunk or host a backyard get together and hang a piñata on the durable tree limbs. If you are looking for a climbing tree, a mature specimen is just begging to be climbed.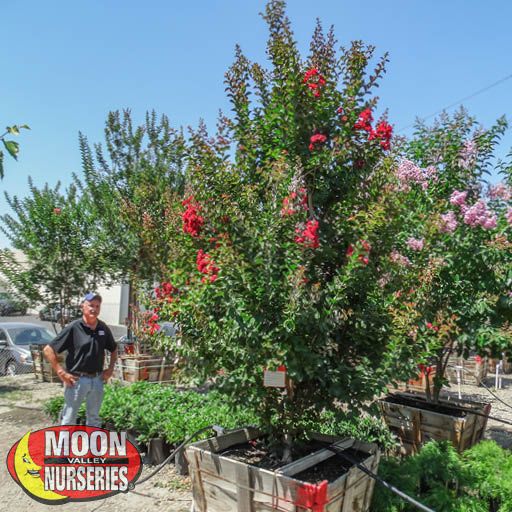 Drought tolerant, Crape Myrtle craves the heat, and may bloom with large clusters of delicate flowers. When the hot weather arrives, expect late spring and summer colors to decorate your landscape with shades of red, white, purple and pink. Crape Myrtle Lagerstroemia is just as colorful in the fall as it is in the summer. Fall colors such as golden, orange and red are sure to complement any yard and landscape. This small-to-medium-sized tree looks good even when bare, revealing a handsome outline and smooth, spotted gray to light brown bark that may shed to reveal a pinkish, inner bark. Use landscape lighting to highlight the beautiful multi-trunk structure.
The Sabal Palm, also known as Sabal palmetto, is a medium-sized, slow growing palm that is native to the southeastern US and West Bahamas. They are tough, versatile and ready to bring a little slice of paradise into your yard! When first planted, the Sabal Palm looks like tree fronds growing straight up from the ground, and as it matures they can grow with unique curves and character. We love to plant them as street trees, for the patio or terrace, and around swimming pools and spas where their trunk and fronds can cast a distinctive shadow of filtered shade. Their large, green-colored fronds and uniquely shaped trunk will also look amazing when lit up with nighttime landscape lighting! Plant a few and they can also be used as one of the most tropical hedges you can find!

Nothing signifies spring and summer like the sweet aroma from the Southern Magnolia tree. Moon Valley Nurseries has grown their own Improved Glen Flora Magnolia. These trees are extremely cold and heat hardy, giving a beautiful shaded canopy as they grow, and just like other Magnolias, they are showcased by their beautiful creamy white blooms. These beautiful specimens are easily identifiable by their large glossy leaves and giant creamy, white, fragrant blooms. Growing more upright than wide makes the Southern Magnolia one that can be planted nearly everywhere with ease. This is a moderate sized tree that works in many landscape applications and once established likes to dry out between deep waterings, making this a perfect tree for use in water wise landscapes as well.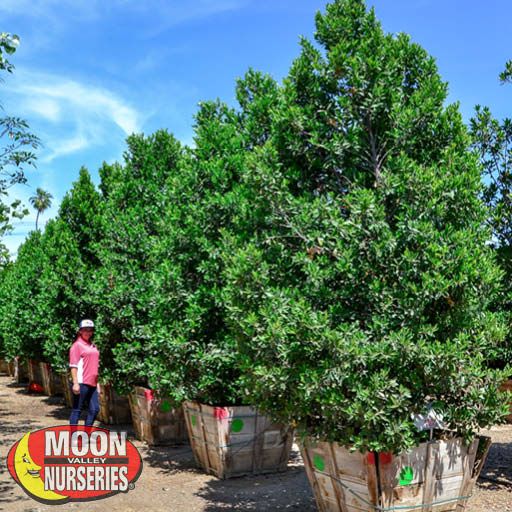 Carolina Cherry
Grown from only our best specimens, you are guaranteed to get the highest quality tree available from Moon Valley Nurseries. The 'Compacta' strain is more densely branched and is easily tamed, making it an ideal plant for use as a privacy screen, for use as a border, or as a hedge. When used as a shrub, many homeowners choose to shear the Carolina Cherry 'Compacta'. Its adaptability to shearing makes it a great foliage plant that can be sheared into conical shapes, columnar shapes or standard rectangular forms. Homeowners can bring an outstanding formal look to their landscape.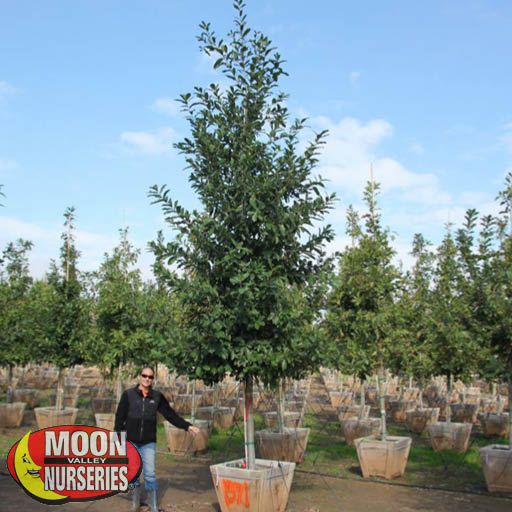 Mexican Oak
The Monterrey Oak Tree, botanical name Quercus polymorpha, is a fast-growing, semi-evergreen that can grow to be a large-sized tree with a spreading canopy featuring exotic green foliage that can also produce plenty of dense shade. Towards the end of winter, it loses most of its leaves, with an attractive new growth in early spring of bronze to pinkish bronze-colored leaves transitioning to a vibrant green color, creating a nice change of seasonal colors. It is a native of south Texas and is sometimes called the Mexican White Oak tree or Monterrey Oak. No matter what you call it, this is one favorite tree for both homeowners and landscapers, and it is a beauty that will bring maximum shade coverage and plenty of curb appeal, too!
Shumard Oak
The classic looking oak tree is one that is prized for it's larger leaves and abundant shade producing abilities. The Shumard Oak is one that grows more pyramidal in it's younger stages then it will branch out creating a more vase like look offering a beautiful structure as well as ample shade. This particular oak works well in all landscapes due to its ability to establish quickly and become a more drought tolerant water wise tree. Shumard Oaks are one of the more easily identifiable oak trees as well, it's shiny dark green leaves can reach 8 long with deep spiny looking lobes. Late fall color turns the tree a vibrant red that stays with the tree for a few weeks before shedding it's old growth in preparation to push out new spring growth.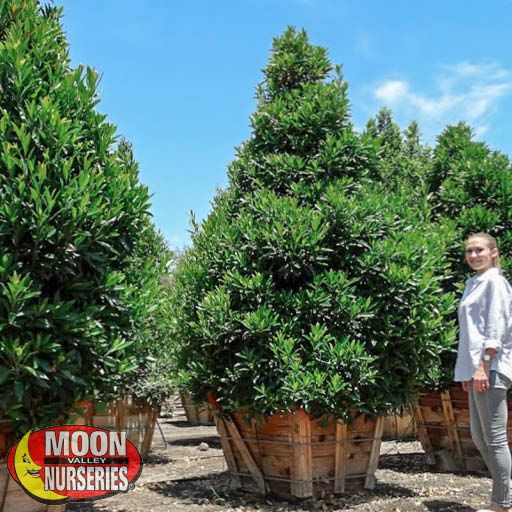 The Japanese Blueberry Tree, Elaeocarpus decipiens, is an exotic, upright growing, evergreen tree popular in Southwestern landscapes. Native to Japan, this widely used hedging and topiary tree provides almost year-round interest. Part of its elegant beauty comes from the lush evergreen foliage. Bronze-colored leaves emerge in the spring, which eventually matures to a luxurious shiny dark green color. As the old growth falls, an attractive brilliant reddish-orange color shows itself in the dying leaves. This new growth contrasts beautifully with the old growth.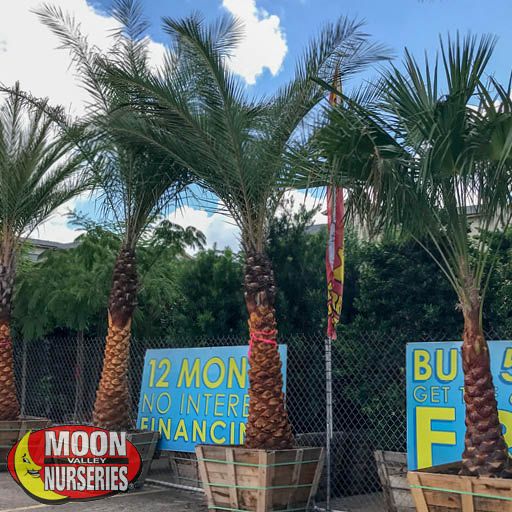 The Sylvester Date Palm has many similar characteristics to the True Date Palm, such as a robust, solitary trunk with that striking diamond pattern that adds a touch of elegance anywhere. Native to India, Phoenix sylvestris (botanical name) is a beautiful accent palm, which is part of the reason why you will often find them planted in luxury home properties, upscale resorts, and planted in rows along avenues. These are fast-growing palms, with an attractive canopy featuring fronds with gray-green hues that help this tree blend well with many landscape themes. We like to plant them poolside, where mirror-smooth water can reflect their graceful shape, and with landscape lighting, you can create nighttime drama!

Queen Palms are a staple of the Southern California and Southwest landscape. Our majestic Piru Queen Palms bring a tropical look and feel to just about any landscape, whether lining neighborhood streets or grown in your very own backyard tropical paradise. Grown purely from superior Argentine seedlings with better genetic traits, these Moon Valley Nurseries Piru Queen Palms are at the top of the class in the queen palms family due to their superior durability and grand appearance. Piru Queen Palms feature thicker and harder trunks as well as greener palm fronds and fuller crowns than other Queen Palms do.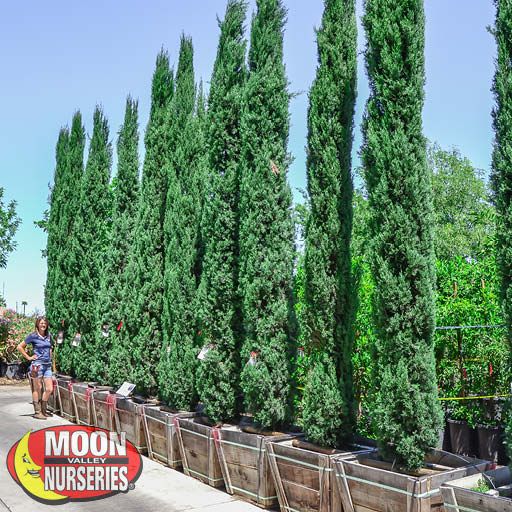 The Italian Cypress is more than just an attractive, space-saving tree. Does your property need more privacy? A fast grower and a great choice for mass planting, many homeowners living in tract housing may want to plant tall and wide Italian Cypress trees for use as a privacy hedge. Does too much wind bother you? Homeowners living in high wind areas will appreciate the windbreak features of these magnificent trees, too.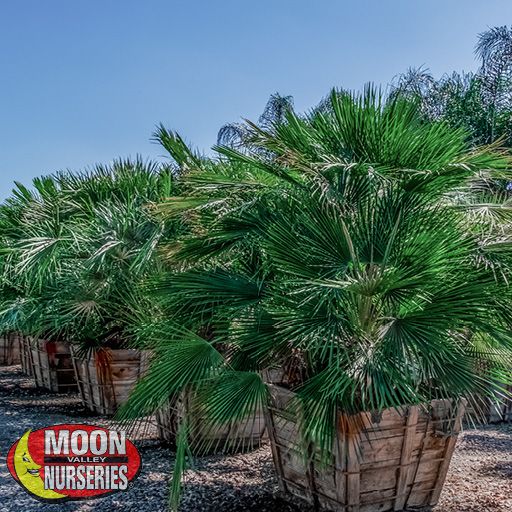 One of the best aspects of this palm is its durability. It requires minimal water once planted and over time it can become drought tolerant once established. The Mediterranean Fan Palm can tolerate both cold and heat and it can survive periods of freezing weather with little or no damage. And finally, the palm requires minimal maintenance and cleanup. No need to be spending those weekend days pruning this palm! This makes these palms a perfect addition to any landscape type, near pools, walkways, patios or as a focal point in your yard, the Mediterranean Fan Palm is sure to impress.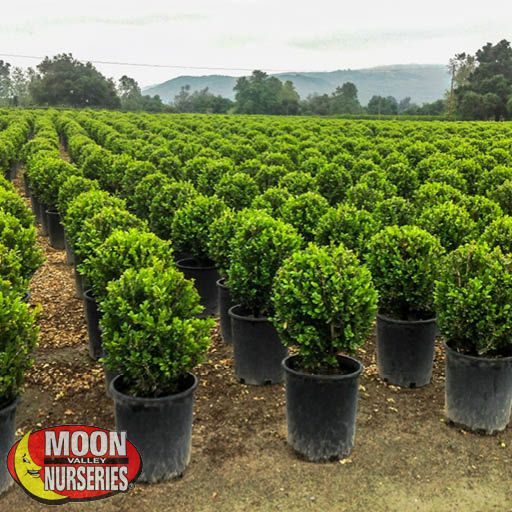 This hardy evergreen is an excellent choice for low to medium formal hedges along walls or walkways. The Japanese Boxwood has attractive, bright green foliage that looks beautiful against buildings when used as a foundation plant. Buxus japonica is a great choice for pruning into topiary or geometric shapes when desired. Plant in well drained soil with planting mix blended into native soil. Water deeply and regularly during warm months and allow the soil to dry out between watering in cooler months.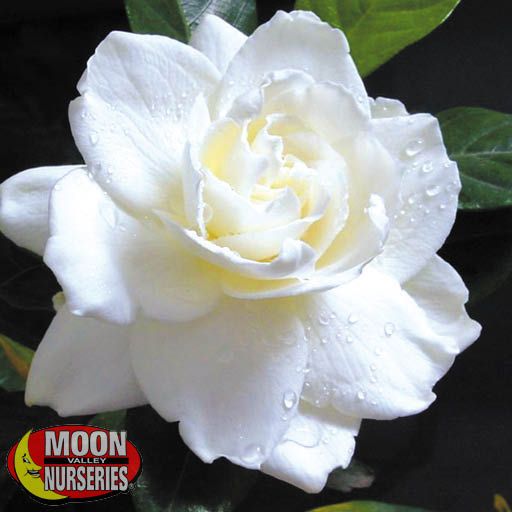 The ever-popular Everblooming Gardenia is a wonderful addition to a landscape or yard. It has many great features to offer no matter where you choose to plant it. You can enjoy the gorgeous silk white flowers as an accent piece in your yard and can prune and enjoy them inside your home for a bit longer. Gardenias are most known for the beautiful strong scent they carry. To benefit the most from the aromatic fragrance, we recommend planting near patios and walkways. It can also be planted in patio containers or large pots for front yard curb appeal.

Trachelospermum jasminoides, Star Jasmine is a cold hardy, twining vine that is best loved for the strong, sweet fragrance of it's white flowers. Star Jasmine will twine itself up a trellis or fence, quickly covering a wall with thick dark green leaves. It is best used in tropical or transition areas. This fast growing vine also grows well in containers, draping down the side or wrapping itself up a post or trellis. Plant in rich garden soil and water deeply and consistently throughout the summer.
What is next?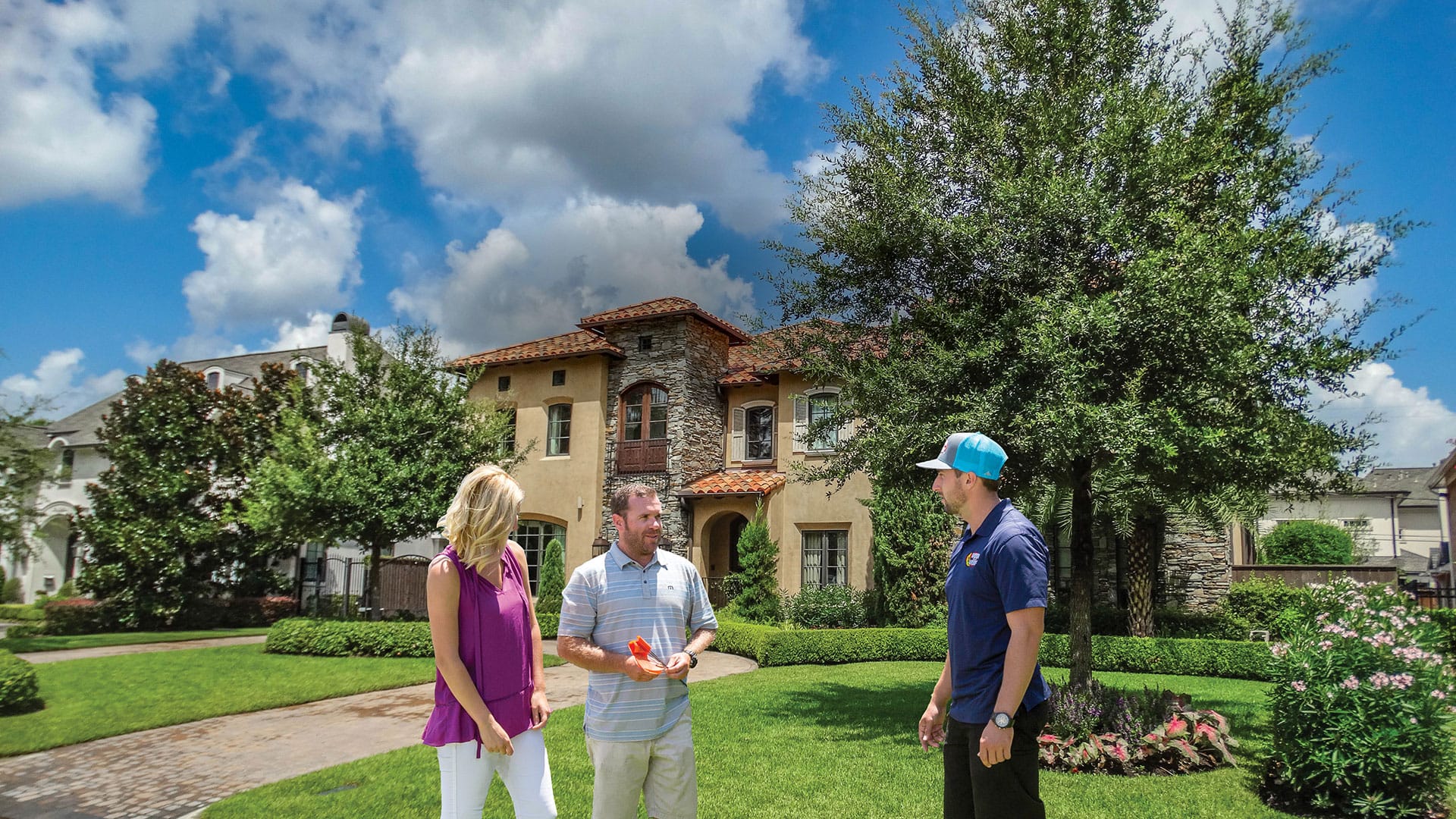 From consultations and design concept to completion, our talented team can help create the backyard of your dreams. We design beautiful and peaceful tropical oasis's that can be enjoyed year round. Let us help bring your vision to life